It's good old Melitta and us
Your hosts behind the scenes
Some of you still know Melitta. She started up Villa Melitta in the 1960s running it together with her husband, Hermann. Together they are a legendary couple – he is the ski instructor type, always tanned, funny and in the mood to party. She is his First Lady, una vera signora and a great hostess. Now we, Michael and Martina, have taken over Villa Melitta and hope you continue to feel at home here like you did before. We are not intrusive hosts and prefer to remain behind the scenes. For us it is important that you have a nice holiday home and that you are able to plan your holiday according to your individual wishes.
An original in the Dolomites. A holiday at Villa Melitta.
Tradition, authenticity and charm.
Villa Melitta is a place for freedom-loving guests who appreciate the perfect location and who come to experience the intrigue of the mountains up close. Nothing is really new here, except for the snug down-filled quilts and the legendary view of the mountains, which change their colour and appearance on a daily basis.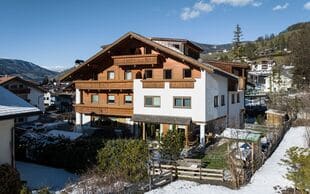 Take advantage of the central location in San Vigilio
Our idyllic San Vigilio di Marebbe is small yet beautiful. Life in the village is pleasant and enjoyable. In fact, there's a lot going on here if you so desire. In a few minutes you can walk to the centre with its cute little bars, cafés, excellent restaurants and quaint inns as well as a handful of nice shops.
Culture, culinary and lift facilities