Get to know Ladinia and its culture
Culture
Val Badia is no ordinary holiday destination. It's rich in Ladin culture, art, crafts and architectural highlights. We have put together a colourful mix of all of this for you to send you on a journey through different ages and experience the history of our area from archaeology to modern art, from the cave bear to Zaha Hadid's spectacular alpine architecture.
CELEBRATE CULTURE & NATURE
Filter for:


MMM Corones
at Kronplatz
This museum is a must-see not only because of its creator, Reinhold Messner, but also because of its architect, Zaha Hadid.
Museion
in Bozen
The museum of modern art is a stone's throw away from the centre of the charming regional capital. Housed in a futuristic building flooded with light, it is well worth a visit!
Ursus Ladinicus
Außenstelle vom Museum Ladin
The Ursus Ladinicus is a branch of the Ladin Museum and is all about a cave bear bearing the same name. In autumn 1987, numerous bones were discovered by Willy Costamoling from Corvara in a cave just below the summit of Piz Cunturines at an altitude of almost 2,800m.
Istitut Ladin
Institute for Ladin Language and Library of Ladin Culture
The Ladin Cultural Institute "Micurà de Rü" is a scientific institution in Val Gardena and Val Badia, which seeks to preserve and boost the Ladin language as well as the culture of Ladinia and the Ladin people. It organises and promotes various initiatives to support this goal. It is open on weekdays all year round.
Church of St. Barbara
in La Valle
This small holy chapel has a beautiful location on a hill above the village of La Valle. It is particularly attractive as it is found in one of the most beautiful areas of Val Badia.
SMACH.
in Val dl'Ert
The contemporary sculpture park Val dl'Ert in San Martino in Badia offers art lovers the chance to visit a permanent exhibition of interesting sculptures acquired from past SMACH art competitions (art biennale).
Museum Ladin
Museum Ladin Ciastel de Tor
This museum in Ciastel de Tor represents the Ladin culture and sheds light on its origins and history up to the present day. It also details the decisive influences supra-regional events had on the lives of the Ladin people living in the Dolomites.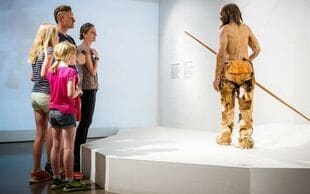 Ötzi Museum
the Iceman, in Bolzano
The famous glacier mummy dating back to the Copper Age was found by chance on the Val Senales glacier in 1991 and has become more than just an archaeological sensation.
Museum MART
in Rovereto
Mart, the museum of modern and contemporary art, offers an attractive selection of artwork and is located in Rovereto, a small rural town far from the city hustle and bustle.
Museum LUMEN
at Plan de Corones
The relatively new museum of mountain photography, LUMEN, is situated in the heart of the iconic South Tyrolean mountains.
Nature park visitor centre
in San Vigilio
The Fanes-Sennes-Braies Nature Park visitor centre is located in San Vigilio where the Val di Marebbe valley begins. It is like an open window looking over the nature park. You can delve into the secrets of the protected area thanks to interactive media, videos and panels. Here, you can also learn a lot about the formation of the Dolomites.