Welcome to the culinary land of milk and honey
Food + drink
Our Alpine-Mediterranean mountain cuisine is as uniquely simple as it is refined. We embrace not only the southern influences and lightness, but also our high-quality regional raw materials to create delicious culinary delights. On our list of restaurant recommendations, there is something for everyone - South Tyrolean home cooking, the perfect stone oven pizza and fine dining at an altitude of 2,200m. Buon appetito!
CELEBRATE CULTURE & NATURE
Filter for:


Cocun
San Cassiano
This gourmet restaurant is an experience in itself. Located in the wine cellars of the elegant Hotel Ciasa Salares with bottles of wine lining the walls, it offers a pleasant, casual and friendly atmosphere. In addition to the excellent cuisine, the restaurant also offers a fine selection of cheeses and has one room dedicated entirely to chocolate.
Stria
Gourmet restaurant, Colfosco
A simple restaurant with a warm welcome just a few metres from the village church in Colfosco. On the menu you can find traditional local specialities as well as creative interpretations and more refined dishes. It doesn't just read well - it also tastes good!
Saalerwirt
San Lorenzo di Sebato
Here you will find a wealth of historical and culinary delights. This is because the Saalerwirt is one of the oldest inns in South Tyrol. Here you will be served good quality, healthy food from their South Tyrolean country kitchen in beautifully preserved, original dining rooms. You can expect a relaxed atmosphere where people from different countries and cultures meet and exchange ideas.
Lüch da Runch
Badia
Surrounded by woodland, this 18th-century farmhouse has five different wood-panelled dining rooms. Here you can enjoy good quality original Ladin cuisine. The menu features Ladin specialities such as barley soup, tortelli pasta (fried and served with butter) as well as pork knuckle roasted in the wood-fired oven and served with polenta and sauerkraut.
Pizzeria da Arnold's
San Vigilio
Here's our next pizzeria tip for you: Arnold's is the ideal place for social occasions where you can enjoy genuine, typical dishes from South Tyrol and above all the delicious wood-fired pizza.
Cristlà
Restaurant - Pizzeria in San Martino in Badia
An enjoyable culinary experience overlooking the Sass de Putia. On the menu you will find not only delicious crispy wood-fired pizza and hearty dumplings, but also tasty antipasti and homemade pasta. Everything is homemade and prepared using fresh local produce.
Dal Bagn
BiOstaria, St. Vigil
Do you fancy something creative? If so, then we can recommend Biosteria Dal Bagn. Experience Dolomite cuisine prepared by head chef Stefan Kuprian and his team. You can look forward to homemade, à la minute fare made from high-quality organic ingredients as well as uniquely simple yet tasty dishes.
Kelina
Gourmet restaurant at an altitude of 2,200 m
Truly an exclusive mountain retreat, this restaurant on Piz Boé offers sensational views of the valley and mountains thanks to its large floor-to-ceiling windows. There are three menus featuring meat, fish and vegetarian dishes. In addition, there is also a good selection of desserts and an impressive wine list!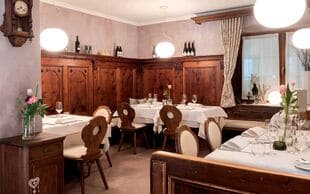 Osteria Posta
San Martino in Badia
Enjoy local, Ladin cuisine with a modern touch as well as a unique blend of Alpine and Mediterranean and fantastic wines. Look forward to a great culinary evening. Don't miss the Tasces - ravioli with alpine cheese and cranberry butter - or the Gröstl which includes potatoes, pork fillet, roasted onions and cabbage salad.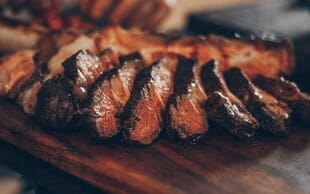 Ciolà
San Vigilio
Small, rustic restaurant with excellent meat dishes and a very good selection of wines. Here traditional meets modern throughout - in a warm atmosphere, in the kitchen and on the wine list. The quaint restaurant was built in the style of a medieval fortification as can be seen in old photos and wood carvings.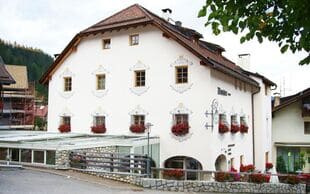 Gasthof Dasser
San Martino in Badia
Cosy, family-run, historic inn offering Ladin specialities and down-to-earth South Tyrolean home-cooking. Also recommended: a visit to the wine cellar for speck and pan sëch (South Tyrolean crisp flatbread).
Tabarel
San Vigilio
Experience culinary highlights in cosy yet stylish surroundings. The restaurant, honoured by Gault Millau and other restaurant guides, spoils you with exquisite local cuisine and traditional and international dishes with a Mediterranean-French touch.
Tlo Plazores
San Vigilio
Osteria Plazores has a welcoming rustic pine-panelled dining room dating back to the 18th century. This is a very special eating house offering new, exciting dishes on a daily basis - using fresh ingredients produced by themselves or prepared by selected South Tyrolean farmers and suppliers within an area of up to a maximum of 99 km away. The menu is also divided up according to the origin of the products with two categories, 0 - 30km and 99km.
Ritterkeller
Restaurant - Pizzeria a San Vigilio
No holiday in South Tyrol is complete without a pizza. And this one is especially good because it is baked solely in a wood-fired oven!